Well-Known Member
Premiere Member
Jul 1, 2018
1,272
2,177
113
Welcome to the March Rudolph day picks! I hope you have a chance this month to enjoy a little Christmas.
Movie: Help for the Holidays (2012) with Summer Glau and Eva La Rue. Santa sends one of his elves to LA to help a family find their Christmas spirit.
Book: Christmas Bells by Jennifer Chiaverini. It is inspired by the poem Christmas Bells by Henry Wadsworth Longfellow.
Recipe:
https://food52.com/recipes/84554-best-gingerbread-buns-recipe
My cousin sent me this recipe a few weeks ago to try. It's a cinnamon roll except with a gingerbread flavored filling. A 1/2 recipe was plenty for 2 of us. It baked up beautiful. Would make a nice Christmas breakfast.
You Tube:
If you are looking for a little glamor for your tree here it is from Elegance on a Budget. These are absolutely stunning ornaments. They look so easy. I'm wishing now I would have bought clear ornaments on clearance.
Pinterest: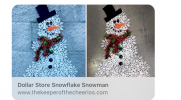 https://www.thekeeperofthecheerios.com/2017/12/dollar-store-snowflake-snowman.html
I still look at Pinterest even though I no longer have a account. I was looking for "unusual" Christmas decorations trying to find some new, fresh ideas. I happen to find this snowman.
Magazine: Country Sampler Farmhouse Style Christmas Special Issue 2020

Honestly, I don't buy magazines anymore, not even at Christmas. So I did a little searching online and found this one that looked interesting.
Blog:
https://www.allthingschristmas.com/christmas-decorations-ideas/christmas-home-decor/
This is out of the UK and just a little bit of everything Christmas.
Music:
Fond memories from my childhood. Sitting in front of the tree listening to these albums. My dad worked for Goodyear and we would buy one every year. It was always fun to get the new album and see who was on it.
Enjoy!
Happy Rudolph Day!